Haiti 's Super Web Directory
(Emmanuel W. Védrine)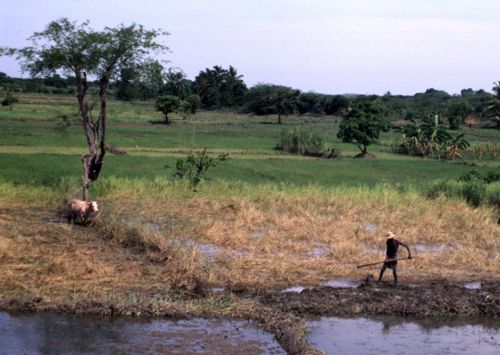 Campagne haïtienne, 1983. Photo Fabio et Franco Biaggi.
What is this directory about ? The answer is: information about HAITI & HER DIASPORA. Sometimes some people wander how they can help Haiti. I came across many young Haitian Americans and friends of Haiti who ask that question. As a researcher (doing research mostly related to HAITI), I realize that it is important to have an ON LINE DIRECTORY that would include everything related to Haiti. There also people who are researching on Haiti and who are constantly asking for information because they did not have access to a directory that would include everything from "A" to "Z". I took note of that and try to use the access of the internet in order to ease research on Haiti in the 21st Century. So, I invite anyone interested in Haiti to visit this directory to see what's there and to send us what they have available to enrich it. We post the documents free of charge and we try to update the directory quite often since people are constantly sending us new information. I would like to credit Marilyn Mason for some prior works done in relation to this web research. Also, "thank you" would not be enough to say to Mrs. Francesca Palli who is the webmaster; she has demonstrated her deep love for Haiti by spending long hours arranging these documents so that everyone can have access to them.
Themes and electronic texts (mostly in English, French, Haitian Creole / Kreyòl; few are in Spanish) cover areas such as: Art; Art & Literature; Associations & organizations; Bibliographies; Business; Civic duties; Conferences; Consumer rights; Culture; Development; Diaspora; Directories; Dissertations; Documents related to the Dominican Republic and Haiti; Editors (different areas); Embassy & Consular; Employment; Environment and Weather; Essays; Forums; Genealogy; General research; Government; Haitian Creole; Haitian media (in Haiti & the Diaspora); Health; History; Human rights; Human services; Individual CV's; Institutes; Institutions; Language (and resources); Websites; Legal issues; Literacy (in Kreyòl); Link to creole speaking countries; Literature (French, Creole); News; Orthography (Haitian Creole); Politics; Publications; Publishers; Religion; Science & Technology; Translators (English, French, Haitian Creole).
A | B | C | D | E | F | G | H | I | J | K | L | M | N | O | P | Q | R | S | T | U | V | W | X | Y | Z |

Emmanuel W. Védrine
E. W. VEDRINE CREOLE PROJECT, Inc.
P.O.Box 255110
Dorchester, MA 02125-5110 (U.S)
evedrine@hotmail.com, e_vedrine@yahoo.com