OPINION
New Orleans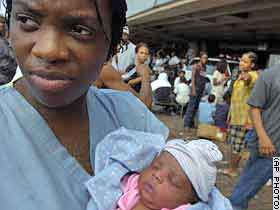 The hurricane and the tragedy that befell New Orleans have helped all of us to realize that no matter how arrogant politician can be, no matter how military strong a country can be, no matter if you are the most developed and the richest country in the world, no matter how imperialistic you can be in your foreign affairs, no matter how you are trying to re-colonize the world by using strong or soft power, there is something which is greater than man and powerful politicians: the forces of nature. Natural disasters.
When the tsunami struck the Indian Ocean, the Americans were prompt to land in, deploying  vast amount of aid as it has always did in such circumstances. There is nothing wrong with that it is much appreciated. However critics said that they were quicker in Asia than they were in NEW ORLEANS. Aid as well as cultural and economic imperialism by multinationals and governments are great ways of using soft power. Invading Iraq to install democracy, spending billions and billions was a demonstration of using this time strong hard power i.e military by bombarding Baghdad, to pursue its foreign policy. However when it comes to open its borders to the south, America use the Third  World Fabric  law and we all know a what cost and after how intense negotiations had been before  AGOA was voted to allow poorest sub Saharan countries to access the American market.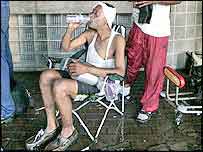 Katrina and the tragedy of New Orleans showed us the other side of America, the side that is never mentioned by the politicians, i.e Racism and Poverty in America. Now we know how that in New Orleans, a city in America where there is 67% black people, 3 out of 10 of them are living below poverty line. That 33% of the black kids of New Orleans have never been to secondary school, that employment among the back is very high, that all these blacks that we saw on TV could not evacuate as they have no car and did not know where to go.  During 3 days they were cut off from the rest of America and the world, they had no food and medicine, that babies and old were dying, etc… Well, well, well, incredible one may say this cannot happen in America. However let us not throw the baby with the bath water. America has done a lot of good for the world, America and has always shown generosity and compassion in hard times so let us show our "grandeur d'ame" in return mainly towards those poor people of New Orleans and show them that we care. No matter how poor we are we can always spare a dollar for those in need; that will not make us poorer, but will bring a smile to those in need.
MORE than 20 countries, from allies Australia and Japan to prickly Venezuela and poor Honduras, have offered to help the US cope with the aftermath of Hurricane Katrina.
Accustomed to being a rich donor rather than on the receiving end of charity, the US initially seemed reluctant about accepting foreign aid, but later said it would take up any offers. The State Department said offers of help had come from Belgium, Canada, Russia, Japan, France, Germany, Britain, China, Australia, Jamaica, Honduras, Greece, Venezuela, the Organisation of American States, NATO, The Netherlands, Switzerland, Greece, the Dominican Republic, El Salvador, Mexico, South Korea, Israel and the United Arab Emirates. Assistance ranged from medical teams, boats, aircraft, tents, blankets, generators and cash.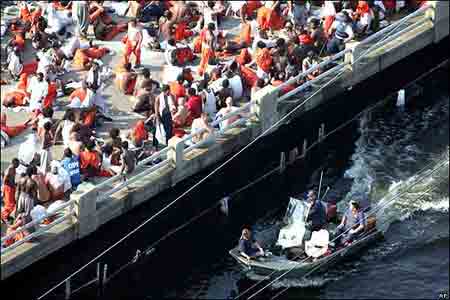 Venezuelan President Hugo Chavez, a vocal critic of Washington, offered to send cheap fuel, humanitarian aid and relief workers to the disaster area. Cuban President Fidel Castro, a Chavez ally, led a minute's silence in remembrance of the victims of Katrina in the Havana parliament. The parliament then returned to normal business, with a resolution criticising Mr Bush over the war in Iraq.
Israeli Prime Minister Ariel Sharon wrote to Mr Bush offering medical teams. "During these difficult times, we, the people of Israel, stand firmly by your side in a show of solidarity and friendship," he said.
But where the US really needs help is getting cheap oil, and the Bush administration will be approaching the Arab nations and other oil producers for assistance in coming days.
The UN, a recent target of US criticism, offered to help co-ordinate international relief. "The sheer size of this emergency makes it possible that we can supplement the American response with supplies from other countries, or with experience we have gained in other relief operations," UN Secretary-General Kofi Annan said. "The American people, who have always been the most generous in responding to disasters in other parts of the world, have now themselves suffered a grievous blow," he said. "This idea that, 'Well they're the most powerful, wealthiest country in the world' -- but when something like this strikes, the poor and the vulnerable are the same all around the world."
Everyone's thoughts and sympathy should be with the poor people of New Orleans. Please give generously as always.
Louis de Lamare